MBE for vicar who transformed Swansea church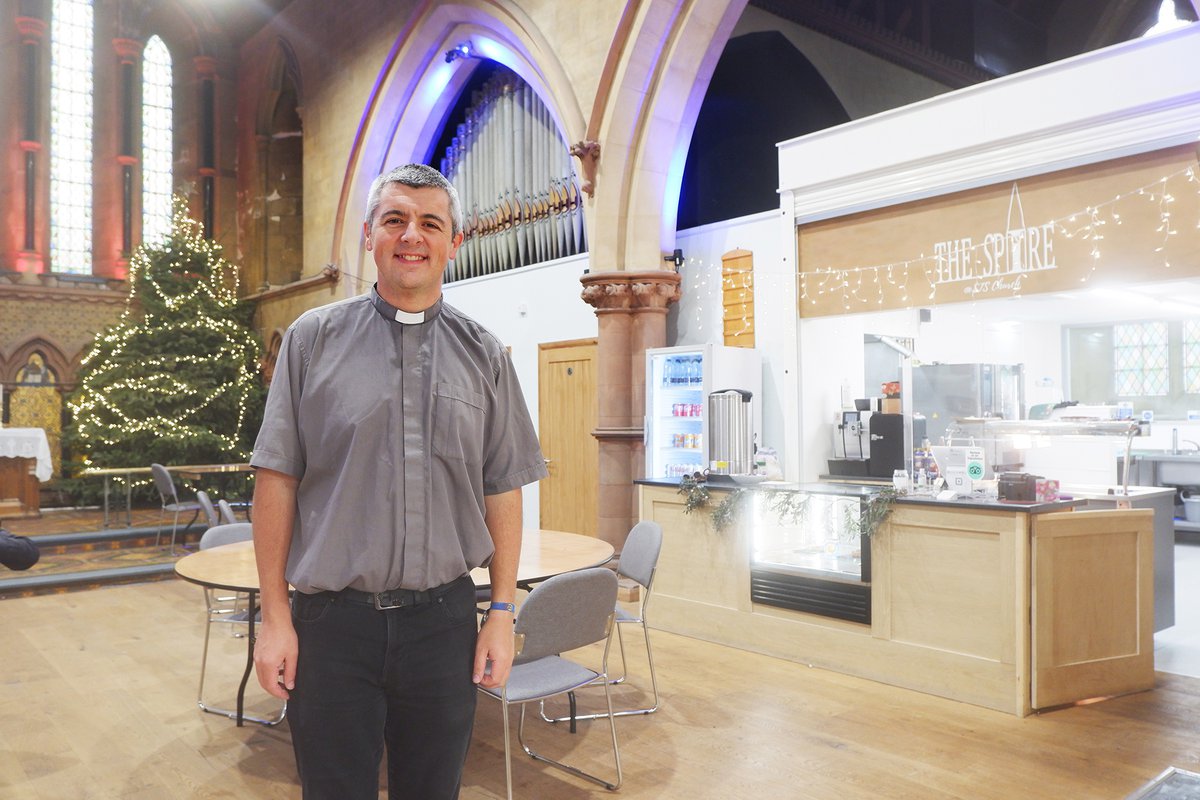 A vicar who transformed his church into a thriving community hub has been awarded an MBE in the New Year's Honours.
Rev Steve Bunting MBE raised £1.4m to redevelop St Thomas' Church, in Swansea's Eastside, into a home for all its ministries including the local food bank, Baby Basics - a volunteer-led project aiming to support new mothers and families, as well as a place of worship fit for the future. The church is now home to a not-for-profit café and conference/wedding reception venue called the Spire where all proceeds go straight back into the community.
The church, and its team of volunteers, has also played a crucial role in the Covid-19 response, delivering thousands of school meals and prescriptions, and providing tonnes of food via the food bank.
­Of his honour, Rev Steve said: "At first I didn't really understand it because I didn't know that anything like that was going on. I felt emotional and that they'd made a mistake.
"There are a lot of people who do a lot more than I do and do it without any kind of recognition, including people who volunteer for us. There are some people here who are out, night after night, in the wind and the rain collecting food from supermarkets, who are carrying food bank parcels between our buildings.
"I'm receiving this on behalf of all of them. It's nice for us a church to receive that recognition but for me, personally, it's an incredible privilege but it just feels a bit surreal."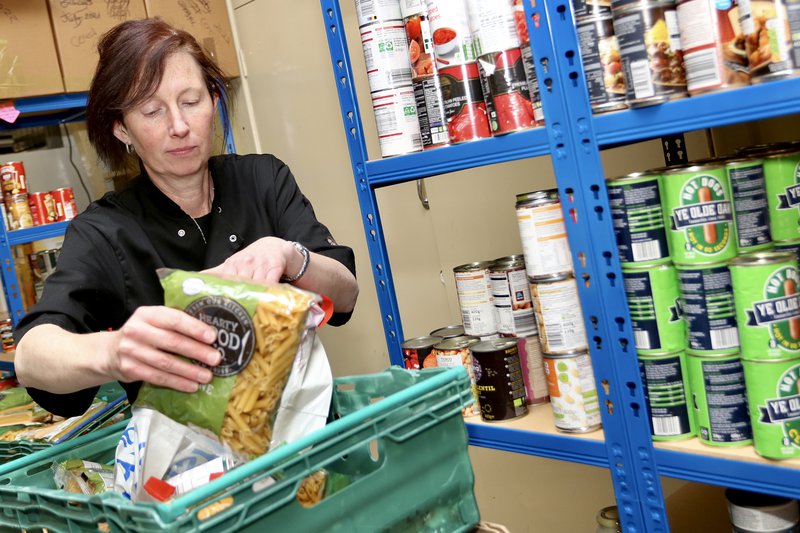 This year has been busier than ever, with nearly 6000 individuals being given food at our food bank - the equivalent of nearly 50,000 meals.
"It has also been a record-breaking year for Baby Basics with 154 vulnerable new mums helped with starter packs containing everything they need for the first three months of the baby's life," Steve said. "Our surplus food programme distributes tonnes of food every week that would have gone to waste and now goes into people's homes."
Steve, 40, has been at St Thomas' for seven-and-a half-years, leading its transformation from a building which was closed for five months of the year to the heart of the community.
"We transformed the building so we could help to transform the city. We want everybody to be able to reach their potential, to understand that they are created in God's image, that they are loved by God and that there is a purpose to their life. We don't want the scar of poverty, of deprivation, of temporary difficult circumstances derailing people from the potential we believe they have.
"We want to play our part in helping people to have the full life that Jesus promises them, whether that involves feeding people, helping babies who don't have anywhere safe to sleep, or offering a shower and a bed for somebody who's homeless. Whatever we're called upon to do, we will do it if we can."
The redevelopment of the church meant that when that call came at the start of the pandemic, it was ready to play its part in the city's response.
"Within 24 hours of lockdown being announced we hand delivered a letter to everybody in the community, basically saying 'look, you're not on your own, we'll get through this together. If you need anything, food or prescriptions, just get in touch.'
"Our food bank changed then from just being open a couple of hours a week to being open all day, five days a week. We were turning around tonnes of food every day, through the food bank, delivering food to people who were shielding, collecting food from supermarkets and closed pubs and distributing it back out into the community.
"Suddenly there was an additional demand on everything that we had here. In addition to that, that's when we began to do things like helping our schools. We began doorstep deliveries of bags of free school meals and, over the summer holidays, we delivered 10,000 of those across the whole of Swansea. We wanted to make sure everybody was fed because people were too scared to go to the school to collect their free school meal."
Steve said the project has taken a lot of work but the reward has been seeing people's lives transformed.
"There's no doubt it's really hard work but it's a real privilege to be here. We have a small number of volunteers doing an incredible amount of work and our aim is to keep our eyes focused on what we're doing.
"Every day we're literally seeing people's lives being transformed in front of us. We've seen people come in here, some who've not eaten for a few days, and they are having food. We're seeing agencies collecting parcels for Baby Basics who are overwhelmed by what they see. It's our piece of the Swansea-wide jigsaw of how we can transform people's lives, it's a real privilege to do that.
"Using a food bank is inhumane as far as I'm concerned. It robs people of dignity and I think that the Church should be at the forefront of restoring dignity and value to people. In the midst of the hard work and the long nights, that is at the heart of what we want to do.
"I feel like we're really getting somewhere when we get somebody who comes to donate food to the food bank six months after they had received food from the food bank and things are okay now. That is a great feeling.
"In my childhood, when I was very little, I know for a fact that neighbours made sure we ate, made sure we were okay and bought Christmas presents and I suppose the Church has an opportunity to try and bring that community feeling back. The Church has the opportunity, in every community, to be the light in the darkness. If you need help, walk to that building with the pointy roof and somebody there should be able to help."
It has been a busy time for Steve and the St Thomas' team, who provided Christmas lunch for more than 80 people who would have been on their own, but he is already planning for the future.
"I've spoken before, publicly, about my childhood, which was one that, by the intervention of others, I got to where I am. By the intervention of good, kind people stepping in to bridge the gap between the failures of family or the State I got to where I am now and we want to be those bridge builders, those gap-fillers where there's a need to really cheer people on in life, we want to be those cheerleaders.
"Going forward, what we want to do is help people a step before they need to use the food bank, whether it's through other agencies helping them with budgeting, the Credit Union, cooking classes which we did over the summer holidays for families so they can cook on a budget. We're trying to go one step back so that instead of supporting people in a crisis we can try and prevent those crises from happening."
"Swansea is blessed to have a wonderful group of churches who are passionate about doing the same thing and we are pleased to play our part in that combined effort."
As well as serving as Vicar in St Thomas, Steve is part of the school governor teams at St Thomas Community Primary School and Danygraig Primary School, an associate chaplain at Swansea University and chaplain to the Boys' Brigade in Wales.
The new Bishop of Swansea and Brecon, John Lomas, said: "The news that Steve has been awarded the MBE is a wonderful testament to his faithful leadership and tenacity in bringing the Good news of Jesus to the community gathered around St Thomas, Swansea.
"A lived-out Gospel is a powerful testament to the world in which we live. Word and action has transformed and continues to transform the lives of those Steve and the team come into contact with. The diocese and St Thomas' Church should be proud of all that has been achieved and Rev'd Steve Bunting MBE in particular."