Czech Ambassador pays poignant visit to graves of WWII airmen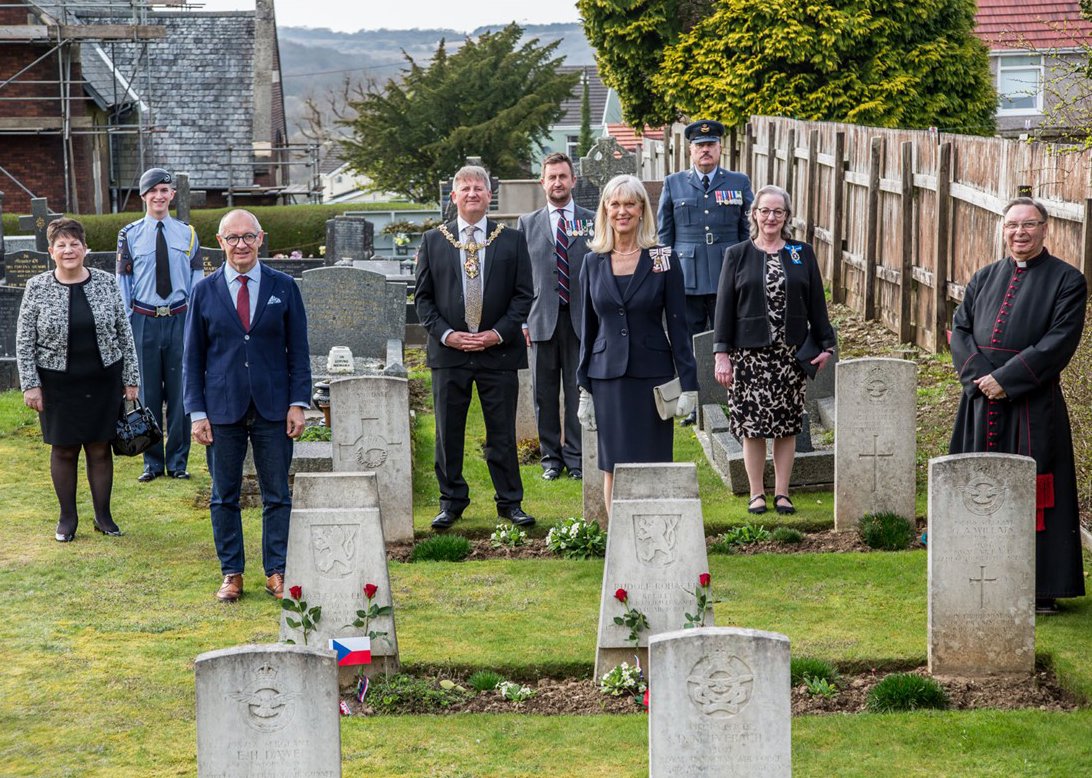 The Czech Ambassador to the UK has visited the graves of two World War II pilots in Killay for a service of remembrance.
Flight Lieutenant Rudolf Rohacek and Second Lieutenant Josef Janeba, who both served in the 312 (Czechoslovak) Squadron, are buried at St Hilary's Church.
His Excellency Libor Secka visited the churchyard for the service, where tributes were paid to the pilot officers who were buried within days of each other in 1942.
Canon Phillip Gwynn, who is Vicar of Killay, said: "These two courageous men served in 312 (Czechoslovak) Squadron and one of the airports they used was Fairwood Airport in Upper Killay. They flew Hawker Hurricane and Supermarine Spitfire planes.
"The Ambassador's visit was to oversee the care of the two war graves and to tell us something of the pilots' stories."
Rudolf Rohacek was serving with 312 Squadron as a Flight Lieutenant. He was killed on April 27, 1942 when his Spitfire Vb AD553 crashed 200 yards from Axbridge railway station. He was last seen diving steeply and it is thought he became unconscious when his oxygen equipment froze.
The last page of the diary of Josef Janeba contains a note from his friend Vojtech Smolik about his tragic accident. "Pilot officer – second lieutenant, JANEBA Josef, died on 2 – V. 1942 in a plane crash. He used his parachute, but the crash happened at a very low altitude, so the parachute could not save him. He was my best friend. Honor to his memory. P/O SMOLÍK Vojtech."
During World War II the 312 Squadron carried out 17,472 combat sorties. It shot down 14 planes, and lost 17 of its own pilots. In the Battle of Britain, the airmen of the 312 carried out a total of 84 combat sorties and participated in supporting the Jubilee operation – landing at Dieppe, Overlord – the invasion of Normandy and the attempt to circumvent the Siegfried Line.
Canon Phillip, along with Lord Lieutenant of West Glamorgan Louise Fleet, welcomed Ambassador Secka to St Hilary's.
Also at the service were the High Sheriff of West Glamorgan Joanna Jenkins, Lord Mayor of Swansea Cllr Mark Child, City & County of Swansea Armed Forces Champion Wendy Lewis, Wing Commander Steve Fry, Wing Commander Phil Flower and Flight Sergeant Kristian Morgan, 215 (City of Swansea) Squadron, Lord Lieutenant's Cadet 2021.
Following a tour of the church, a short act of remembrance was led by Canon Phillip at the gravesides, following which Ambassador Secka spoke and Michal Zizlavsky, Third Secretary of the Political Section, Czech Embassy gave those gathered information about the manner of the deaths of the two young men.
A small bunch of remembrance posies was laid at each grave by the Lord Lieutenant. The Ambassador then placed red roses at the graves, along with Czech flags.