The Dean of Brecon's Pastoral Letter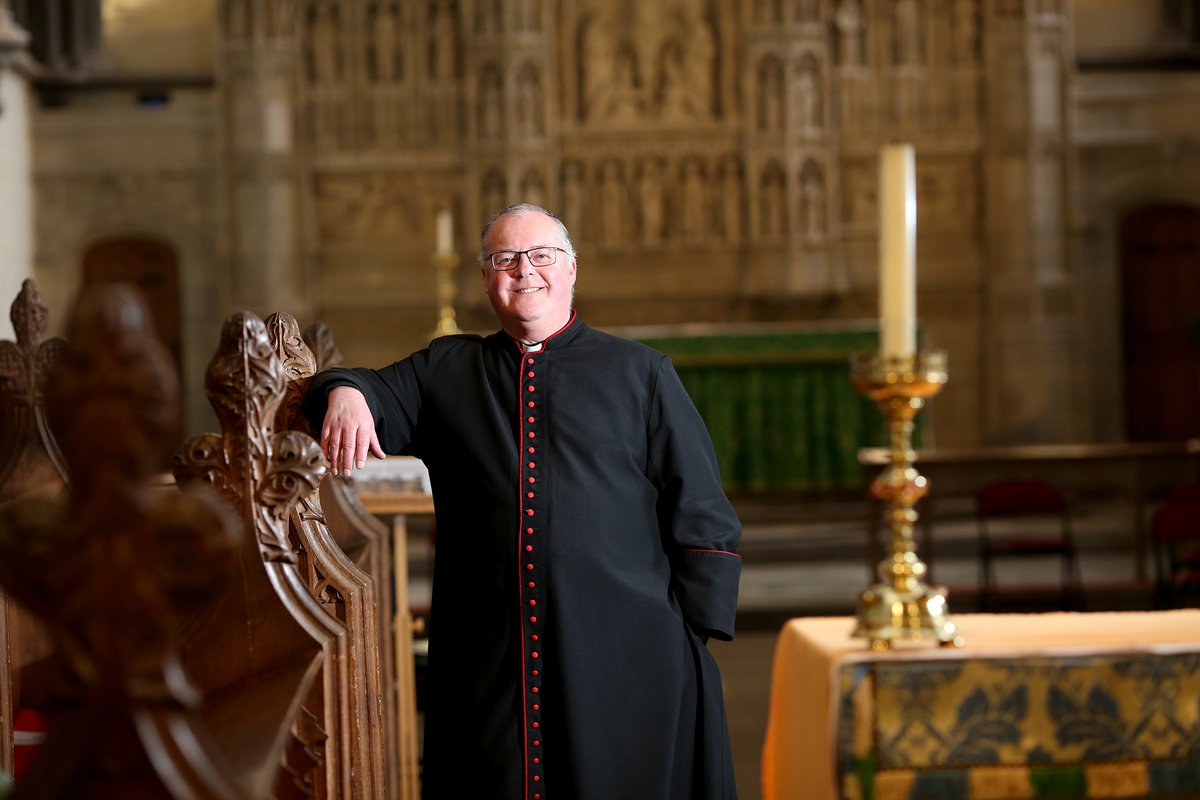 AUGUST 2021
It has been two months since my last Pastoral Letter. With the guidelines changing frequently, I have waited until there is something to communicate. This is a timely letter before we move into the busy autumn season, and the summer holiday comes to an end. It is a good time to update you all on progress, news, and events. I hope you will find this informative. If you have any questions or comments, please phone, or email me, or just chat after a service. I'm always open to listening to your views and reflections. This is a timely letter because I am very aware there are still some who remain isolated and unable to attend for various reasons.
Since March 2019 the Cathedral adapted with great speed and flexibility. The constant shifting of reality meant rapid and important adaptation to Covid-19. Some churches have been adept at facing challenges, while many have not. Sadly, some churches may never reopen. Our worship and fellowship in the Cathedral needed to keep pace with the external changes and volatility. I am grateful to my colleagues and volunteers who have served the Cathedral with good humour. We are starting to gain confidence, look to the future, and seek new opportunities in ministry and mission. We must remain vigilant and aware that the virus is still with us. So, I practice and advise we continue following the good practice and risk assessment that are in place.
We have not merely survived the last 18 months. We have seen a surge in the practice of compassion and kindness, as well as love for neighbours and strangers. I hope we do not lose these values and practices or revert to old patterns of behaviour. It is now our communal task is to consider the next positive steps to establish a renewed and refreshed fellowship and purpose together. We have learned that being together, showing gratitude, and acting together for the benefit and wellbeing of others, are vital for us. Being at home has motivated many to reduce stress and anxiety. We should cherish and build on these qualities and behaviours that have flourished in these difficult times and take them into the future as a gathered Cathedral community.
I am pleased to say that the Sunday 8am Eucharist and 3.30pm Choral Evensong will resume on Sunday 05 September. I know how much these services have been missed, and I look forward to welcoming you back. Given the Sunday 8am will return, I would value the views who have faithfully attended the Wednesday 12.00pm service, if you want this to continue, or return the midweek service to the modern rite, as before lockdown. We hope to see a return of refreshments after the 11am Sunday service in the not-so-distant future. It has been good to welcome many new members to the Cathedral over recent months and the last year. Thank you for your engagement in volunteering and contributions through giving by direct debit. Thank you also to those who have been regular attenders for many years, who have remained faithful in prayer, worship, and maintaining your regular giving to the Cathedral in challenging times. It has been disappointing others who did not attend services have not maintained their regular giving, causing a significant decrease in income when it has been most needed.
It is also good news that the National Lottery Heritage Fund (NHLF) has accepted our Expression of Interest application and has invited us to resubmit our application for urgent repairs and reordering. It has taken a great deal of work, and funding, to get to this stage of the process. There are still great challenges to face in the coming months. The Representative Body, after much negotiating by the Deans of Welsh Cathedrals, have given a grant to all Cathedrals of £30,000 for administrative staff. Their Finance Committee, meeting in November, will decided on further funding that will begin in 2022. These funding streams strengthen our application for the £1.5 million application to the NLHF.
There are significant staff changes and challenges ahead. The first challenge is recruitment of staff. I am in the process of writing role descriptions for a Facilities Officer, Cleaners and Verger. Richard Williams, our current Facilities Manager, and two Cathedral cleaners will retire at the end of September. Advertising is immanent. If you know anyone who is interested, please ask them to be in touch with me for a copy of the role descriptions. We welcomed Revd Anna Bessant, ordained Deacon in the Cathedral in June, who is based in the Brecon Ministry Area for three years training. She will be ordained priest in June 2022. The Director of Music and Assistant Organist will take up their posts full time, coming off the furlough scheme on 01 September.
The second challenge that I have been managing for several months, is the future of Pilgrims Tearoom and the Cathedral shop. I'm grateful to Jocelyn for ordering new stock and volunteering in the shop. After several conversations with the Borgias, sadly, the tearoom will close on 28th September. I know this is deeply regrettable and disappointing, but it is no longer financially sustainable. My prayers are with the staff who have been made redundant. I chaired the meeting of the Cathedral Tithebarn Company Directors on 04 August, when it was decided the café be closed 'temporarily until spring 2022'. This will give us time to reflect on the right business model to adopt in the future and look for alternative uses. You will notice that the recent reconfiguring of the Heritage Centre has opened new opportunities for better use of the space. It is still possible for this space to be hired for events through the autumn.
The opening event of the Cathedral gardens on Saturday 07 August was a lovely day, with more than forty people attending, including MPs and AMs. The Mayor of Brecon opened the day. This is a joint project between Brecon Cathedral and Brecon & District Mind – Green Minds group. Do take a walk around the gardens in the close, along the pathway alongside the Diocesan Office. Take a walk along the heritage trail around the Cathedral close, where there are QR codes linking stories of the history of the Cathedral and grounds.
Following the retirement of Bishop John Davies on 02 May, the election of a new Bishop will take place in St Mary's Swansea 01-03 September. Please keep the Electoral College in your prayers. Electors are made up of 12 electors from this Diocese, 6 electors from the other five Dioceses, and five bishops. Two thirds majority vote is required of the successful candidate. If no decision is made, the decision is deferred to the Bench of Bishops.
Finally, my thanks go to the amazing volunteers, welcomers, stewards, readers, servers, staff, clergy, for your commitment, work, and time, to ensure worship continues, and the Cathedral is open to visitors and tourists. Some days we welcome as many as 150 a day. The ministry of hospitality and welcome is always appreciated. I receive many letters and emails thanking us for our welcome. A welcome that includes dogs. Apparently, other Cathedrals and churches don't allow dogs. This is good news for dog walkers. Also, the children's detective quiz has been very popular indeed. There is much to celebrate. I look forward to sharing fellowship over food and wine. I'm confident it won't be long now. Meanwhile, I remain cautious and 'measured' in evaluating the risks to ensure we all remain safe.
The Very Revd Dr Paul Shackerley
Dean of Brecon