The Dean of Brecon's Eastertide Pastoral Letter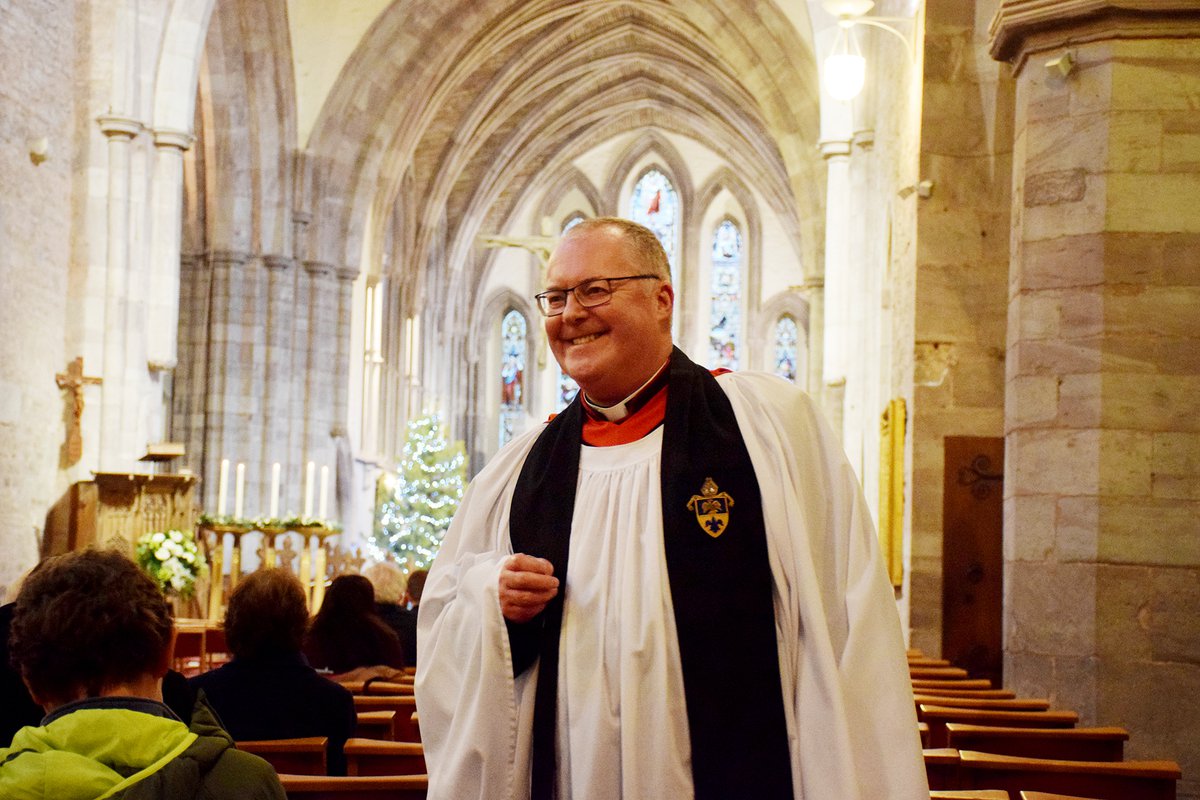 Once again for a second year, to protect our own lives and those of others, we celebrated Easter to greet the Risen Lord "behind closed doors" (John 20,19-20), with only a maximum of 65 able to worship physically in the Cathedral. Stringent restrictions meant that this was the second Easter the Cathedral, like all other churches, have celebrated the resurrection without many of the powerful symbols and mystery of our worship. We celebrated Easter with the joy of welcoming the choir's return to the Cathedral. Regrettably, seats had to be reserved for holy week services, and I know some were disappointed. Amidst fears, sadness and anxieties, the worship of God has continued, and Holy Week and Easter celebrations enjoyed, and for that we give thanks. Although we continue to cautiously live, and live under the shadow of the pandemic, there is a sense of anticipation and hope in the air. We see a rising confidence as people return to the Cathedral for worship.
In his Easter message, the Anglican Archbishop of Hong Kong wrote, 'Easter comes quietly to a world altered by extraordinary circumstances'. We have re-evaluated and adjusted our lives, partly because have had time to reflect on what is important to us. Again, Pope Francis captures Easter very well, that living resurrection lives as Christians is best seen in our selfless expressions of love for others. He wrote, 'Rivers don't drink their own water. Trees do not eat their own fruits. The Sun does not shine for itself; And flowers do not spread their fragrance for themselves. Living for others is a rule of nature. We are all born to help each other. No matter how difficult it is. Life is good when you're happy; but it is much better when others are happy because of you.'
Sunday 11am Eucharist continues to develop as confidence rises. While livestreaming has been a source of comfort for many, the numbers watching have significantly decreased now, to perhaps 10 – 20 people. So, we will keep monitoring our livestreaming practice, given that it limits the Cathedral liturgical practices. From Wednesday 28 April, we begin a said service at 12.00pm, using the 1984 Prayer Book, particularly for those who prefer its worship and are unable to attend the Sunday 8am. I assure you that I continue to monitor any changes to the restrictions and the law, in the hope the 8am will soon be reinstated for those who prefer that service. Evensong began on Thursday 22nd April at 6pm. The next one will be Friday 30 April at 6pm, then alternative Thursday/Friday weeks thereafter during term time. Do come to this beautiful service if you are free through the light summer evenings. Once again, I am grateful to those of you who continue to give your monetary offering even though you are unable to attend. To those who have not continued giving this year, I encourage you to consider reinstating your regular giving, even if you are not attending. The Cathedral services and opening is dependent on our regular giving, which has dropped significantly. Thank you to those who have continued to faithfully give. It is a great encouragement, and much needed for the sustainability of our ministry and mission.
The Bishop retires on Sunday 02 May. We will have our usual service at 11.00am, when he will preach and preside. A collection is underway to present him with a small gift thanking him for his support of the Cathedral's ministry and mission since he has been the Bishop. I am grateful to him for his wise counsel, good humour and sharing his knowledge and experience over the last six years. His love for the Cathedral, the organ and choirs are well known, having established the Choir Trust to ensure the longevity of the Cathedral's musical tradition.
Revd Dr Gill Todd completes her three-year training with us in June and has been appointed Ministry Area Leader of Greater Brecon, but still ministering at Llanddew, and will continue to assist at the Cathedral. Anna Bessant will be ordained with others at the Cathedral in June and will serve her training in the Brecon Ministry Area. Right Revd Barry Morgan, the last Archbishop of Wales, and Bishop of Llandaff, will be the ordaining bishop and preacher at the ordinations. These will be ticketed services. Rich Wooten continues his placement at the Cathedral as ordinand in training for priesthood.
Pilgrims and the shop reopened on 26 April to serve food and drinks outside only in the close 11.00am – 3.30pm daily (except Thursdays). The Cathedral will open to tourists and the public on Monday 17 May. I'm grateful to those who have volunteered as welcomers, which makes opening for visitors possible. Without them the Cathedral would not be able to open for tourists, visitors, and prayer. Once the cathedral is open, we will be re-establishing a group of flower arrangers. The cathedral has always had an enthusiastic group of flower arrangers but some of whom for many reasons are unable to continue. If you would like to be part of this group or know someone who would please get in touch with Rev Gill Todd. Through our initiative Convivium, we have a developed a new Pilgrims' Walk to and from Llanddew Church through the beautiful Priory Groves. Following the 11.00am service on 9 May, we will launch the new route with a walk, stopping to pray at each station. Pack a lunch to enjoy (weather permitting) in the churchyard at Llanddew.
On Sunday 18 April, the Cathedral gave thanks for the life of HRH Prince Philip, Duke of Edinburgh. Lessons were read by the Mayor of Brecon and the Commanding Officer of the Infantry Battle School, Brecon. The Friends of Brecon Cathedral quiz night was a very enjoyable evening in April. Thanks to the Friends for organising it. We are very keen to repeat a fun evening of getting to know each other. The Friends of Brecon Cathedral Executive Committee hope a planned trip to Hereford Cathedral will take place in September, if restrictions continue to be lifted.
Thank you to everyone involved in Cathedral ministry and mission, volunteers, lay staff, and ordained colleagues, for their patient endurance through a difficult and challenging year. Ministry and mission have continued, albeit in different ways, and can be thankful that God continues to sustain and guide us. I am pleased to say that preparatory work with our consultants DCA has made significant progress in moving forward with the third attempt of applying to National Heritage Lottery Fund (NHLF) for urgent repairs, restoration and reordering of the Cathedral. I can't emphasise enough how desperate and urgent repairs are now, with much more water ingress causing increasing damage and risk to the building. Our Expression of Interest to NHLF was submitted at the end of March after many months of preparation. If successful, we will submit a full application in a few months' time. Then, we will launch a fundraising campaign for the congregation to raise a significant amount of match funding. DCA has conducted a thorough consultation with many of us, our significant users and partners and the local communities we serve, and who are involved in the life of the Cathedral. This has been an essential aspect of the NHLF grant criteria.
Another grant application to the Cultural Recover Fund 2nd Round has been submitted. I am grateful for the immense amount of work and time given by the Chapter Clerk/Treasurer, Dr Mike Williams, for his high level of commitment, not only with this application, but with all matters of finance and administration. After planning permission was granted, the Heritage Centre is now reordered. This means it has greater capacity for multiple use and income generation. I am grateful to the Probation Services and Richard Williams our Facilities Manager, for their hard work over the last few months. The new signage for the close has arrived, and these will soon be put in place by the Probation Service. Meanwhile, the Ecotherapy groups, Green Minds project, continues their great work in landscaping the Cathedral grounds. Do come and see its beautiful work.
The Very Revd Dr Paul Shackerley
Dean of Brecon